BUILDING PROCUREMENT SKILLS & COMPETENCES 
Special Report Free Digital Copy
Easy-to-Read & Down-to-Earth Special Report Showcases a Strategic Approach to Building Procurement Skills for Teams to World Class!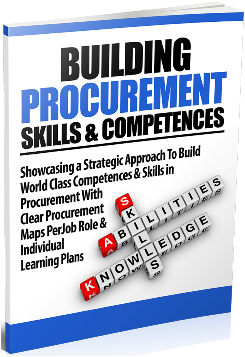 ---
A Non-Academic but a Practical Guide, this Special Report ...
Is short and straight to the point, with less than 2,500 words it takes an average reader about 17 minutes to read it.
It outlines a comprehensive and yet flexible approach that can be customized to any team and organisation.
It is simple to understand and implement.
Within the pages of this report you're going to discover:
How to use the procurement matrix to design competence maps for each procurement role, e.g. Senior Buyer, Contract Manager, Category Manager and more - includes 7 sample roles.
An approach that has been implemented for hundreds of organisations.
How to build solid skills in every procurement team and use the approach 'as is' or only those parts that are most important to you and your organisation.
The approach outlined is flexible enough to cater to your own organisation method to build a customized competence matrix, job role maps and learning plans.
Get Your Free Digital Copy by Clicking the Button Below.
---