COST REDUCTION IN PURCHASING & PROCUREMENT!
Effective, Practical & Easy-to-Apply Strategies, Examples & Techniques That Show How To Achieve Cost Reduction in Purchasing & Procurement!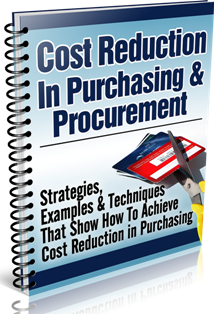 ---
Get Your Free Digital Copy & Discover:
How Much Can You Really Save in Purchasing & Procurement?

How Much $1 Saved Equals in Sales Revenues? This Number Will Get the Attention of CEOs/CFOs in a Big Manner.

How To Ask Vendors & Supplier for a Reduction in Their Prices/Quotes?

A Powerful Tool To Use in Determining Whether You've Been Over-Charged - and What to Do Instead?

Resisting Price Increases From Suppliers!