OUT-NEGOTIATING SUPPLIERS!
Special Report Shows Strategies to Successfully Negotiate with Suppliers, Get Better Prices & Terms, Without Being a Pain in Their Back!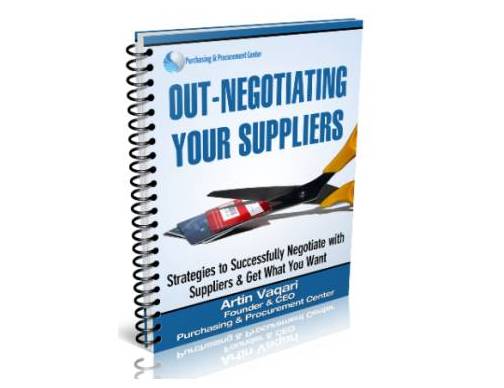 ---
Get Your Digital Copy & Discover:
The main disadvantage Buyers have vis-à-vis Suppliers!

The Biggest Mistake Buyers make in most negotiations (and they never realize this)

The main strategy suppliers/sellers use to win negotiations even before they start (and how you can easily stop it).

What is one of the top things you must have before you negotiate with your suppliers?

Who are the suppliers that you really need to negotiate with (and those who you don't really need to)?

The 6 Steps to write a successful negotiation letter to your supplier? (sample letter also included)

What do you need to prepare before negotiations?

The 3 'innocent' questions suppliers ask, which takes away most of your negotiation power & How to Counter Them Effectively?
---