Are You A Procurement PractitionerWho's "Been There Done That"?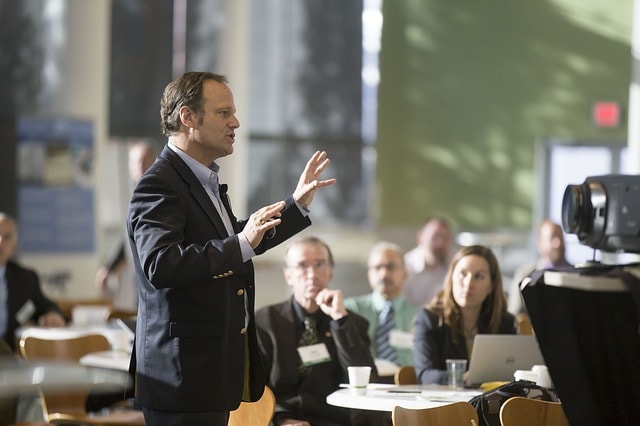 Purchasing & Procurement Center is always open to new presenters and subject matter experts who want to contribute to our events, seminars, and training programs. The best way to be considered is to submit a proposal for either procurement & supply chain training programs or online learning.
Training Programs
Training is the foundation of everything we do. Our vision is to be the only resource center our Clients would ever need to build and train individual & team procurement skills to world class levels. 
If you're a strategic or tactical expert, or successful procurement practitioner, presenting one of our or your training programs is a great way to share your expertise with thousands of procurement executives eager to learn from the best.
Online Learning/Presentations
We're on the hunt for the next great speaker who wants to reach to as many as possible  procurement executives through online learning. These normally are short video presentations covering a specific topic, and providing 'how-to' tactics and strategies that can be used immediately. 
If you have existing online presentations, show us. If not, then tell us what you plan to do. But Before You Contact Us … 
Wait … We do Have a Few Requirements
We're committed to delivering the highest-quality content, and we judge presenters and presentation topics carefully. Consider this as a Strategic Partnership, since once we work together we'll provide ample opportunities for you to train our clients. 
However we owe it to our clients that they work with only the best experts and practitioners. Please consider the following before submitting your proposal:
You Are a Seasoned Procurement Expert, Someone who has led teams and already trained before successfully. Someone that can talk to CPOs with an authoritative voice.
If you're a published author that helps a lot, but is not necessary. What helps tremendously is that your clients 'swear that you're the best' and say that out loudly. For example they say things like "The Real Deal", "Been There, Done That" or "True Guru of Purchasing" - these are actual client remarks for some of our existing procurement experts who teach for us.
Send Complete Outlines of courses you conduct. Include list of clients who have attended previously your training programs.
Send sample presentation slides (10 to 20 would do). For Online Presentations, we require that presentation slides be downloadable for learners to enhance their experience. Plan to wow us with yours. 
Last but not least - Professional Certifications. Whether CPSM, CSCP, MCIPS, CPPO or any other equivalent certifications. It shows that you have a verified & comprehensive knowledge base. 
Email us at speakers[at]purchasing-procurement-center.com 
If things go well and you're the 'real deal', we'll contact you for more information, to request references, or maybe even ask for a video of a previous speaking engagement. 
Return from Train Speak for Us to Purchasing and Procurement Homepage