Procurement Consulting & Advisory Services
Procurement Consulting Services & Advisory from the Center Where Every Year Over Half a Million* Procurement Executives Look for Procurement Strategies & Tactics!

---
---
In addition to offering procurement trainings (classroom and online), Purchasing & Procurement Center delivers special consulting projects that help organisations to measure their procurement process and people vis-à-vis world class & best practices.
We actively conduct less than 5 projects at any one time since all our consulting projects are directly handled by highly experienced consultants who actually are hands on. We and our consultants do not sub-contract any part of the work.
For that reason we are not able to take on every request for consulting. If we find that we can excel in the deliverables then we pursue the project. If not we'll tell you upfront.
Our Typical Projects are quick to implement and focus on the outcome/results of what you want to achieve, which is actually one of the best practices in procurement - hiring suppliers based on results you want to achieve.
Our Procurement Consulting Services Include:
3600 (Degrees) Supply Management Review 

Identify & Prioritize Ways to Improve Procurement & Supply Chain Performance, Evaluating 8 Essential Sectors Performance for any Procurement Group:
- Staff Talent & Competence
- Organisational Structure & Influence
- Spend Impact
- Technology Utilization
- Contracting Risks & Techniques
- Procure-To-Pay (P2P) Process Efficiency
- Quality of Supplier Relationships
- Value Provided to Internal Customers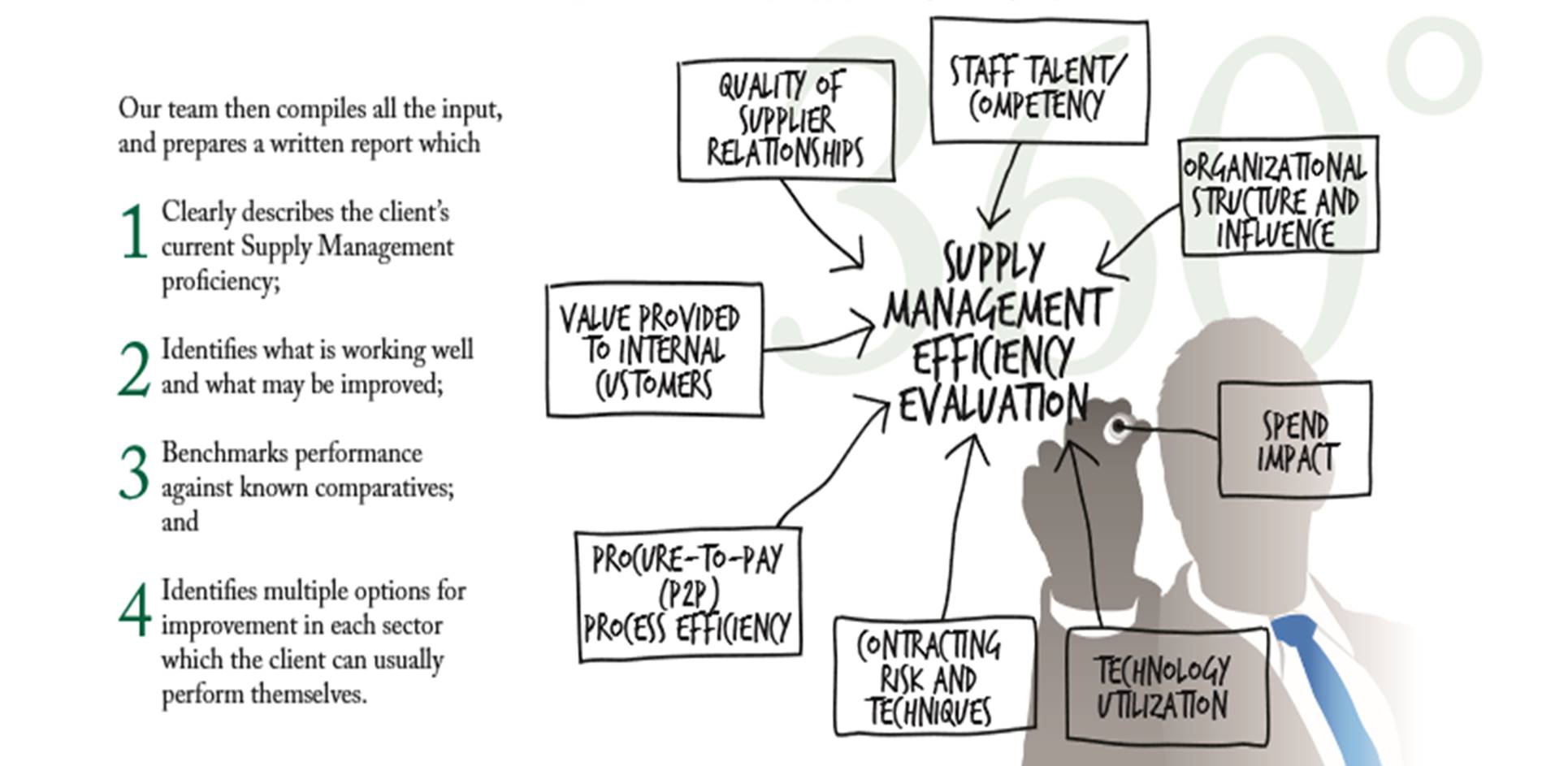 This consulting project can be conducted for ALL or ANY or a COMBINATION of the 8 areas as per clients requirements.
If 3600 Review seems relevant, Set Up an obligation-free online discovery appointment.
---
Competence Mapping & Gap Analysis 

Our competence mapping and gap analysis involves a revolutionary process that helps Create your Own Customized and Detailed Competence Maps & Matrixes plus Conduct Gap Analysis, Without Breaking the Bank!
Unlike other consulting projects this is a semi-automated process where competence maps and gap analysis are done with the ultimate objective of designing individual learning development plans which help to close the gap.

Project's unique benefits:

Quick turnaround time
(2 to 6 weeks depending on the number of people in your procurement team);
Very cost effective (starting at $7,995);
Customized for You, based on your specific job descriptions;
Includes knowledge based Online Assessment (not self-assessment) that facilitates Gap Analysis;
Creation of Detailed, Customized & Personalised Learning & Development Plans;
Designed with the End in Mind so that to create individual development plans to close the gap - that's why we offer this as ONE comprehensive service from beginning to the end:

- Create Competence Map Based on Job Roles

- Conduct Assessment & Gap Analysis

- Build Individual Development Learning Plans
If Competence Mapping & Gap Analysis are what you're looking for, Set Up an obligation-free online discovery appointment to find out how this has been implemented for other clients and how you can implement it too.
---
Supply Chain Operational Improvement Guerilla Lab

This is a 10 Days Engagement - a hands-on improvement and learning lab which actualizes operational improvement in supply chain, particularly inventory & warehouse.
Taking a guerrilla style approach, it develops focus, urgency and result centeredness. The team learns and uses the most critical skill in operational improvement- THE ABILITY TO EXECUTE.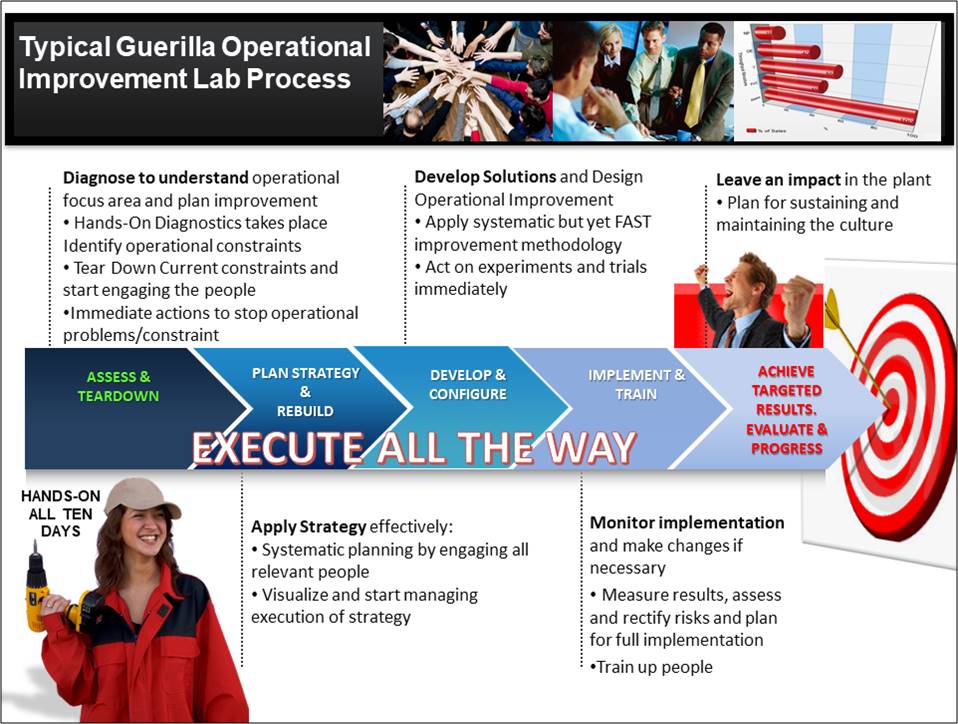 Typical Results From Other Clients Who Have Gone through the Lab:
Inventory reduction at warehouse or other stores leading to reduction in inventory holding cost

Reduction of overstock items from$ 8,000,000 to $ 2,000,000

Reduced warehouse errors

Reduction from 14 weeks stock to 1 week

Reduced Cycle time to handle goods receiving and picking/shipping

Reduction in the number of touches on warehouse SKUs from 20 to 6

Achieve On-Time delivery of parts from warehouse
If Guerilla Lab is right for you, Set Up an obligation-free online discovery appointment to find out how this has been implemented for other clients, results they achieved and how in 10 days you can get similar results.
---
Customized Consultancy Project – Based on Specific Client Requirement
Most of clients requirements are usually covered by any of the 3 consulting services above. However in particular cases based on clients' unique situation, we shall review your specific needs and identify what needs to implemented.
Contact Us and outline your existing situation, challenges and expectations - if it fits with our existing expertise we shall contact you for a further discussion. If not we'll let you know upfront.
---
Or if your consulting projects falls within any of the 3 consulting services above, set up an obligation-free 45 minutes online discovery appointment with one of our directors.  
Complete Your Details Below. 
________________________________________________________
---