Top 6 Procurement Technology Trends in 2021/2022 & Beyond!
It's impossible to stand out from the competition without any technologies integrated. It applies to all industries, including procurement and supply chain management. Due to the COVID-19, a lot of organizations hasten their digitalization to stay afloat and keep evolving.
According to this research, 3 out of 4 enterprises have formalized responsible sourcing programs to drive supply chain sustainability. To stay competitive in 2021 and beyond, it's important to understand the technology trends in procurement to implement. And this article will help you with that.
3 Benefits of Latest Procurement Technology Trends!
The 6 key procurement technology trends when integrated within your business, will help to:

Decrease cost;

Improve effectiveness and efficiency;

Adapt to fast-changing customer needs, wishes, and expectations.
1. Automation to Reduce Human Error and Thus Costs!
One of the biggest benefits offered by the latest procurement technologies is the automation of time-consuming, expensive, and routine tasks. Automation technologies allow organizations to:

Reduce risks;
Identify business needs;
Track spending;
Eliminate repetitive processes;
Predict market demand in real-time
Facilitate supplier management, and so on.
There are 2 types of automation that can be applied to the procurement process:

BPA - Business Process Automation
BPA focuses on the end-to-end process to allow more accurate decision-making. It is intended to streamline operations and improve customer experience.
RPA - Robotic Process Automation
RPA facilitates manual, repetitive, and low value-add individual tasks and aims to reduce labor costs and minimize human errors.
2. Cloud-based Platforms!
Cloud-based Platforms Help to Reduce Investment, Cut Overhead and Improve Real-time Communication. Today, organizations can leverage innovative cloud-based applications that provide tons of useful features, functions, and tools from inventory optimization to supplier management.
Using cloud-based technologies, your employees have 24/7 access to data wherever they are. Thus, cloud-based platforms enable organizations to:
Reduce overhead;
Lower upfront investment;
Enhance real-time communication, information sharing, and better decision-making;
Improve productivity;
Stay competitive in the global economy.
Besides that, today there are a variety of subscription-based models, including SaaS, PaaS, and IaaS. Thus, companies can scale operations with optimal solutions:
Opportunity to incorporate new technologies into their own tech stacks to get more customized solutions;

No need for custom coding;

Paying only for the features they use;

Autonomy and flexibility for business users;

Greater accuracy to meet regulatory compliance.
3. Self-service Portals for Enhanced Customer Experience
Self-service portals are one of the biggest advantages of digital transformation. They improve customer experience, satisfaction, and retention.
Besides, self-service portals allow organizations to lower costs and improve efficiency by executing non-critical purchases and managing their account information. All that means a more personal and effective purchasing experience..

So, self-service portals in procurement help:

Avoiding tedious AP tasks (invoice upload, data entry, etc.) with human errors eliminated;

Getting the best deals from vendors and making fast, informed decisions;

Ensuring compliance requirements are met.
4. Collaboration and Communication Tools!
Collaboration and Communication Tools help to Increase Operational Efficiency. Strong collaboration and communication can not only support a customer-centric procurement process but improve the effectiveness of the whole company.
By using the right collaboration and communication tools, your business can mitigate supply chain risks and strengthen supplier relationships. 
Modern collaboration and communication tools allow for real-time information and file sharing across the entire organization. That increases cost savings and boosts operational efficiency while eliminating errors and delays.
5. AI-Powered Solutions for Accurate Data-driven Decisions!
90% of procurement companies already use AI-powered (Artificial Intelligence) solutions for different tasks, ranging from contract management, automated payments to spend analytics and supplier information management.

AI-driven technologies and predictive analytics help organizations analyze a large amount of data accurately and fast. What's more, the insights received boost operational cost-efficiencies while responding to market demand in a nimble manner.

The AI-based software can not only deliver insights based on large, complex sets of data in real-time, but it enables organizations to make accurate data-driven decisions, automate and streamline time-consuming tasks with minimum human interference needed.
Thus, you can use AI to:

Source vendors as well as aid contract management by analyzing key metrics for renewal and performance;

Update contract data and/or catalog of products, materials, and suppliers to minimize errors;

Facilitate review and approval processes;

Provide inquirers with instant insights to aid better decision-making;

Facilitate customers' purchasing experience and many more.
6. Data Analytics For Cost Optimization and Process Improvement!
According to the Deloitte CPO Survey, analytics will have the greatest impact on the procurement process in the near future. And it's there for a reason. Thanks to the latest technologies integrated and data-driven approach used, organizations are enabled to:

Reduce inefficient use of resources and uncertain decision-making;
Build more effective strategy;
Identify opportunities for ultimate impact, varying from process improvement to management reporting.
All that will help the companies optimize costs, improve the overall process, and get a broad picture for better planning.
The Future of Procurement Technology!
Digital transformation dramatically and rapidly reshapes back-office operations along with supply chain management and procurement. So, in case you want your business to stay relevant, competitive, and profitable, you need to keep pace with new technologies. We outlined 6 tech trends that facilitate:

Supplier performance and information management;
Contract repository and authoring;
Spend analysis;
AP automation, and many more.
Thus, these emerging technologies are what progressive organizations are going to automate in their procurement workflow not only to stay afloat, but stand out from the competitors.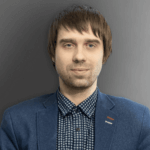 About the Author
Alexey Kutsenko is CMO at DDI Development company, which provides custom web & development services to clients worldwide. Alexey has vast experience in building marketing strategies for various clients, defining the client's needs, and leading digital marketing strategies in the company.