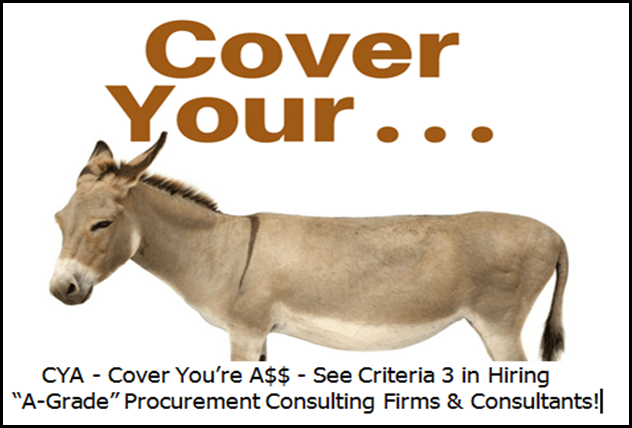 Over the course of work with our clients we've come to realize that buyers who tend to buy services, especially consulting and other 'knowledge based services', are separated by the reality of the work consultants do.

At times those who buy consulting services look mainly for the credibility of the consulting firm - the bigger the better. We call this "CYA - COVER YOUR A$$" principle - criteria 3 in the White Paper.

Then there are those who want to specify from A to Z what the consultant must do - as if they're hiring a clerk who needs to be told everything, not somebody who's being hired for the expertise and knowledge that your organisation does not have.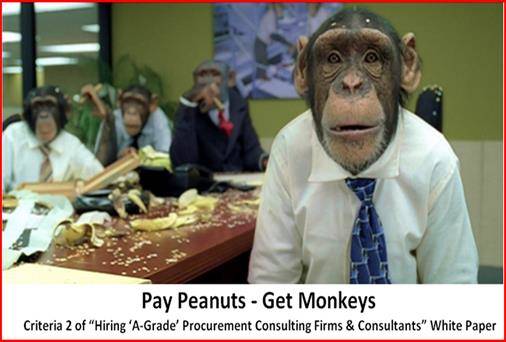 And then there are cases where the negotiations gets so tough that either the consulting company or consultant can't go lower (and the buyer loses a highly qualified consultant) or the consultant takes the job but then the delivery is less than satisfactory. It's the "Pay Peanuts, Get Monkeys" syndrome - criteria 2.

Thus the purpose of this short white paper is to show-case 3 top criteria to strongly consider when deciding to hire a procurement consultant.

Do not be confused by the brevity of this paper as it can ensure your next consulting hire is one of the best decisions you've made when hiring suppliers - Ignore them at your own risk!