Offer Expires When Timer Hits Zero!
Case Studies for Individual Clients
---
Story
Adebisi was looking at finding a Procurement Certification Program that is Practical with Real-Life Scenarios so that to Enable Better Future Career Opportunities. After comparing different options she enrolled for the CIPP Online Procurement Certification Program.
Started with a gung-ho attitude and absorbed the learning quickly. Used the Information learned with Simulations & Used Application Based Tasks to cement the learning points. 
Completed the program entailing 60 plus hours of e-learning which is equivalent to 145 Classroom Education/Training Hours (CEH). 

She found the application based aspect of CIPP extremely useful as that helped her to  build upon her learning. 
Comments
"Well Worth the time and time of invesment. Before the simulations, I am 90% confident that I have fully grasped the lessons and principles. Then comes the humbling simulations :), ... I often found myself going back to review and get better understanding. It's one thing to know the principles, application is a different challenge as scenarios change and can be complex. But in the end, I am confident that I am better placed to deliver and exceed expectations at work and personal engagements.  Practice and Utilization of skills will aid continuous improvement for excellence."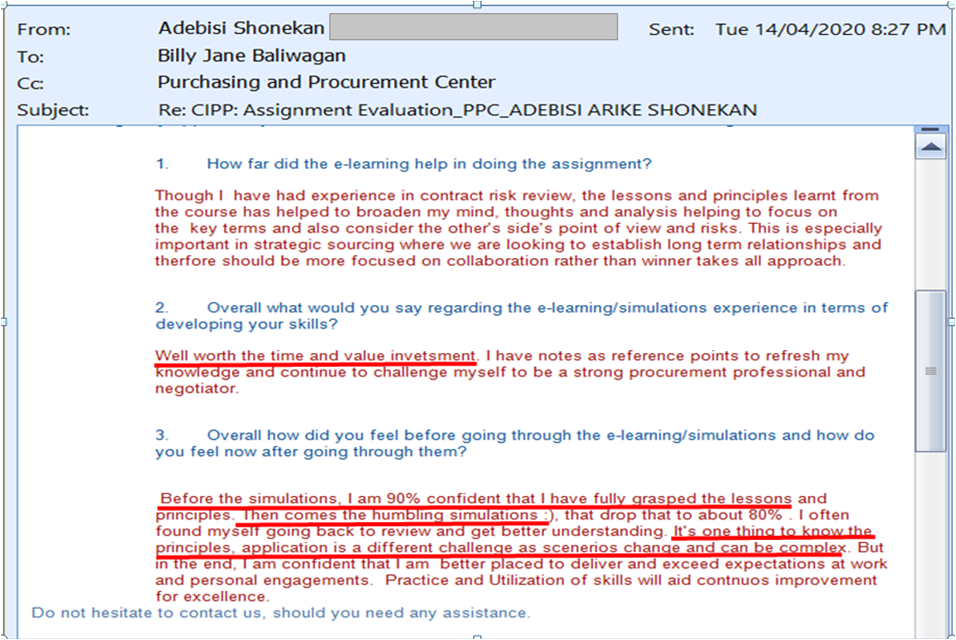 Summary review of Adebisi's program progression dashboard.
A very happy client with 100% satisfaction Rate, who found that she could use what she learned 87% of the time and would unhesitantly (100%) recommend others to join.
Recommended one of her previous colleagues who joined the CIAPP certification program following Adebisi's recommendation.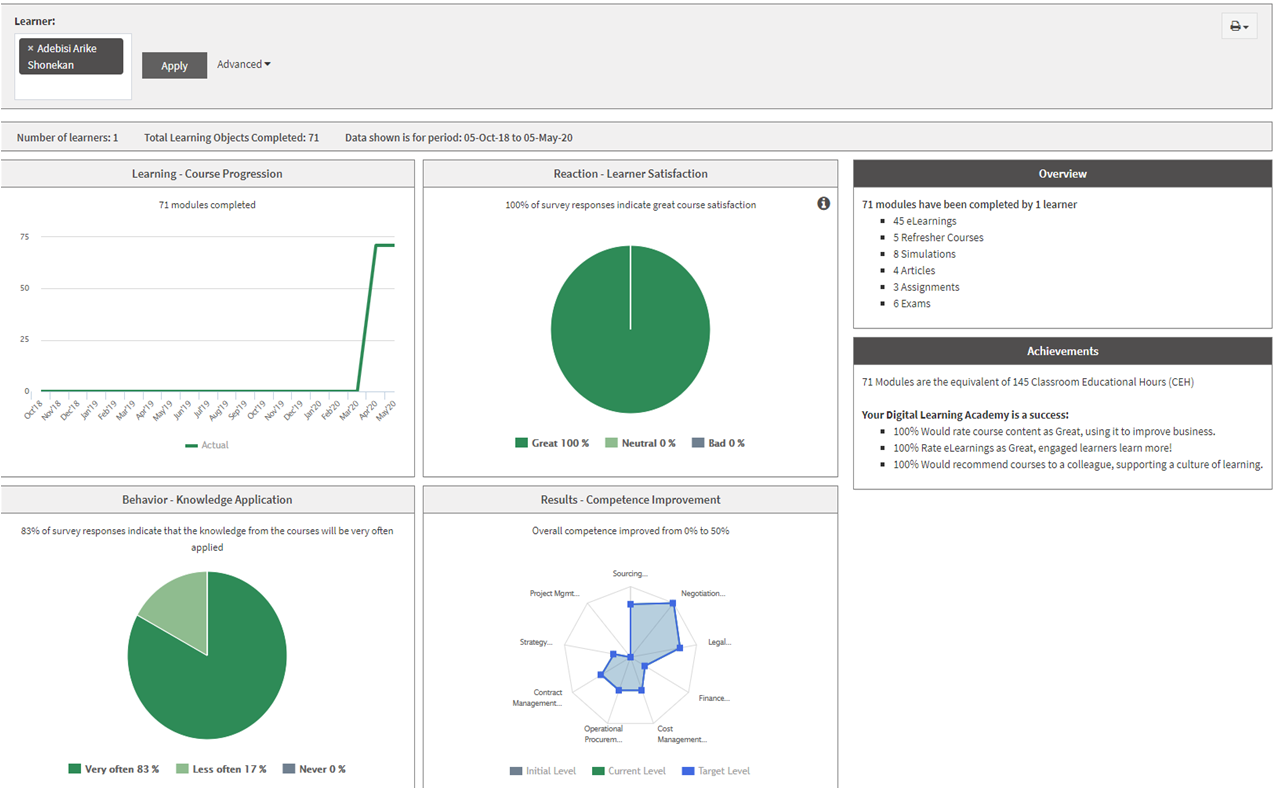 4 Hours of Online Learning - Equivalent to 16 Continuing Education Hours (CEH) which is 2 Days Class Training
2 Months Unlimited Access
USD $697
Advanced Strategic Sourcing E-Learning
5 Hours of Online Learning - Equivalent to 20 Continuing Education Hours (CEH) which is 2.5 Days Class Training
6 E-Courses/2 Micro-Learning/12 Simulations
2 Months Unlimited Access
USD $697
4 Hours of Online Learning - Equivalent to 16 Continuing Education Hours (CEH) which is 2 Days Class Training
2 Months Unlimited Access
USD $497
7.5 Hours of Online Learning - Equivalent to 28 Continuing Education Hours (CEH) which is 3.5 Days Class Training
7 E-Courses/2 Micro-Learning/13 Simulations
2 Months Unlimited Access
USD $697
Strategic Contract Management
4 Hours of Online Learning - Equivalent to 16 Continuing Education Hours (CEH) which is 2 Days Class Training
6 E-Courses/2 Micro-Learning/6 Simulations
2 Months Unlimited Access
USD $397
4 Hours of Online Learning - Equivalent to 16 Continuing Education Hours (CEH) which is 2 Days Class Training
2 Months Unlimited Access
USD $497
Strategic Sourcing Fundamentals
3 Hours of Online Learning - Equivalent to 12 Continuing Education Hours (CEH) which is 1.5 Days Class Training
6 E-Courses/1 Micro-Learning/2 Simulations
2 Months Unlimited Access
USD $397