---
Story
Adebisi was looking at finding a Procurement Certification Program that is Practical with Real-Life Scenarios so that to Enable Better Future Career Opportunities. After comparing different options she enrolled for the CIPP Online Procurement Certification Program.
Started with a gung-ho attitude and absorbed the learning quickly. Used the Information learned with Simulations & Used Application Based Tasks to cement the learning points. 
Completed the program entailing 60 plus hours of e-learning which is equivalent to 145 Classroom Education/Training Hours (CEH). 

She found the application based aspect of CIPP extremely useful as that helped her to  build upon her learning. 
Comments from her email:
"Well Worth the time and time of invesment".
Here's what she had to say about Simulations used in the CIPP program, that help to use the skills learned in real-life scenarios.

Before the simulations, I am 90% confident that I have fully grasped the lessons and principles. Then comes the humbling simulations :), ... I often found myself going back to review and get better understanding. It's one thing to know the principles, application is a different challenge as scenarios change and can be complex. But in the end, I am confident that I am better placed to deliver and exceed expectations at work and personal engagements.  Practice and Utilization of skills will aid continuous improvement for excellence."

And here's about Application Based Tasks that help to customize how to use the learning at work for maximum results:
"The Lessons & Principles learnt from the course has helped to broaden my mind, thoughts and analysis ... This is especially important in strategic sourcing where we are looking to establish long term relationships".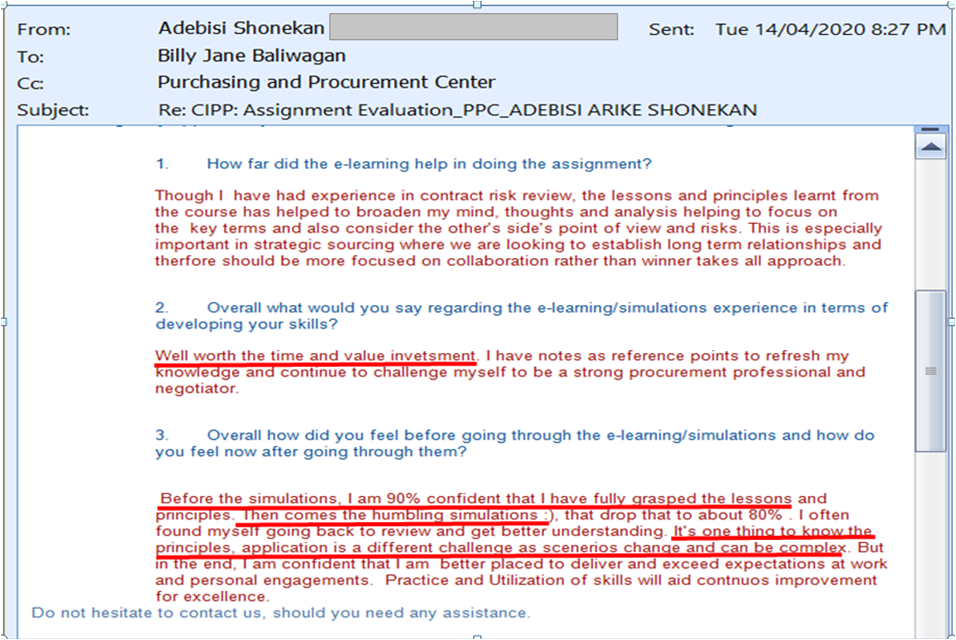 Progress After Completion
Adebisi took the CIPP certifications as part of her ' next phase preparation strategy'. She launched her own on-line e-commerce trading platform business where successful negotiations with customers is a corner stone for business growth and sustainability.
CIPP Certification has helped her improve in her new venture and the Summary Keynotes from the program have become her 'go to refresher' before engaging potential major vendors & customers.
Summary review of Adebisi's program progression dashboard.
A very happy client with 100% satisfaction Rate, who found that she could use what she learned 87% of the time and would (100%) recommend others to join.