ANNOUNCING :
The 7 Star Purchasing Report
Revealing the 7 Secrets to becoming a 7 Star Purchasing Professional in
This is the most downloaded Purchasing Report by thousands & thousands of Purchasing & Procurement Professionals from 27 countries in Americas, Africa, Asia & Middle East.
This report worth $47, can be yours for free when you enter your contact details on the right.
This is what other Purchasing & Procurement Professionals say about this report:
"I used some of [the 7 Star Purchasing Report] content to build up competencies of my purchasing department."
Hung
Vietnam
"The [7 Star Purchasing] report was great and it was professionally done. As a procurement manager, I found it interesting."
Mousa
Saudi Arabia
"… All issues were presented & discussed in a plain & easily understandable approach. Accurate & concise material…!
Farez
Malaysia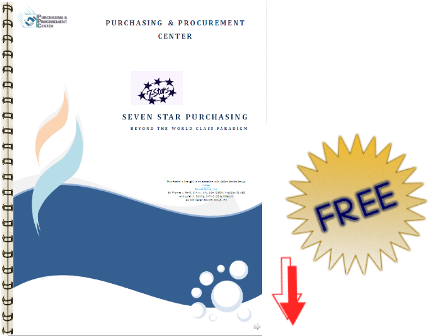 FREE INSTANT ACCESS
Get the 7 Star Purchasing Report worth $47 for free today …
Enter Your Contact Details below Now To Discover these 7 Secret
Privacy Policy – We take your privacy very seriously. Your email will NEVER be shared or given away
When you get the 7 Star Purchasing Report now – worth $47 for free – for a limited time only, we'll show nyou in the next page, how to get 2 Free Webinars, worth $97 each
Webinar 1 - Best Procurement Practices
Webinar 2 - Cost Price Analysis.
These live webinars are by 2 world renowned Purchasing & Procurement Guru's – Robi Bendorf & Stewart Emmet.
A total value of $241 = ($47 Report + $97 webinar 1 + $97 webinar 2)
These are some of the things that you are going to learn in this Report:
The 2 main problems that explain why CEO's do not view purchasing function seriously!
The 3 Primary skills set where you, as a purchasing professional and your people need development! (Only this table showing the 3 primary skills sets with 7 sub-sets – total 21 – is worth the whole report)
What are the 7 factors to consider when using cost-price analytics and techniques?
What are the 4 levels of the supply base relationship?
What are the 4 Strategic categories in sourcing?
What are the 5 areas you must consider every time in a negotiation process?
3 Ways to ensure that you have not concluded a contract when dealing with international suppliers! (If you're thinking that you only have a contract when you have signed it – think again. Under The UN Convention for International Sale of Goods (CISG), there is no provision for preventing assertions that contracts have been concluded solely on the basis of oral statements).
To get the report simply fill the form below and details to download the report will be sent to your email.
Free Instant Access
Get the 7 Star Purchasing Report worth $47 for free today …
Enter Your Contact Details below To Discover these 7 Secrets:
Privacy Policy – We take your privacy very seriously. Your email will NEVER be shared or given away